We expand on the article series with 'The Store of the Future', a  series exploring the evolution of store design.
We look at the concepts and techniques premium and luxury brands are using today, to stay ahead of the curve tomorrow.
In our 'Let's Talk About Brand Experience' series, we reviewed how brands can understand and create an enhanced brand experience. Now, with 'Store of The Future', we explore the evolution of store design. We'll look at the concepts and techniques premium brands are using today, to stay ahead of the curve tomorrow.
Once a brand has defined its user experience and created strategies to maximise impact, how can we continue to build that all-important human connection? Over the next three articles we'll dive into the worlds of Design, Experience and Tech and Social Responsibility. We'll explore how brands can utilise their physical footprint to shape customer experience in today's digitally-led marketplace.
First, let's set the scene.
Physical retail is not dead, it's changing…

(Source: renderosity.com)
Take Roman amphora sellers as an example. They don't exist today because the market changed. But people still buy olive oil, also sold in that era, just not as they did before. It's up to brands to adapt to the new now.
The retailers of yesterday simply failed to listen. They became too big, too quickly. They focused on short term profits and store footprint growth and failed to adapt. Businesses were no longer run by retailers – those who care about products and people. Instead, more and more brands became run by accountants, those whose only concern was the bottom line; the shareholder dividend.
They stopped putting humans at the centre of their business.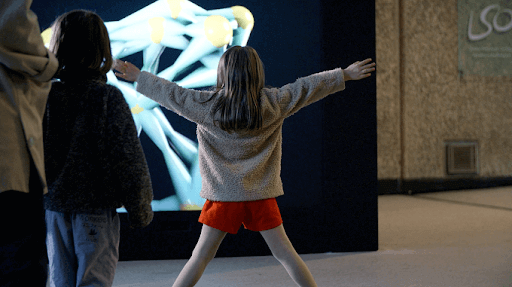 (Source:universaleverything.com)
This led to budgets being slashed, reduced staff numbers and over-stuffed stores. Brands clamouring to throw anything at the consumer in the hope it will stick. Overpriced real estate squeezing brands to deliver as much floor space as possible with minimal back-of-house. Stock rooms becoming a thing of the past – with stock dumped straight onto shop floors.
Adapting to the new normal
Adding fuel to the fire, the coronavirus pandemic brings a new wave of unexpected challenges. Retail is no longer seen as the career it once was. Employees feel they are further and further away from decision making, ownership and the ability to grow. What's left is the perception of a dead-end job with people who don't care, conditioned by a system that isn't built for them.
Despite this, many brands have been bucking the trend. The term 'retail apocalypse' is massively blown out of proportion. Those who were nimble and quick to see the change are leaping ahead with new trends in retail. After all, we are as a planet spending more than ever before on consumer goods.
The Store of the Future series
In a world where consumers' go-to source to purchase goods and services is online, where consumers and brands alike are ever more conscious of ensuring a sustainable future, we ask the following questions:
How can brands continue to make return-on-spend work for themselves and the consumer?
As globalisation continues, how can brands create responsive designs that reflect local tastes?
What does the future hold for the shopping destination and how can brands maximise the experience marketplace?
Creating engagement relevant to expectation

(Source: stories.jotform.com)
Brands have gained extensive UX knowledge by investing in digital experiences relevant to consumer expectations. Spilling that knowledge into physical design has led to some of the most exciting innovations to emerge in decades.
As brands re-focus investment and energy into the portfolio hierarchy, the flagship is king again. We can see this in Vuitton's London Maison, the hyper-digital Nike on 5th Avenue and Adidas on London's Oxford St. As the lines between digital and physical shopping experiences blur, retailers need to provide stand out experiences to engage and drive the consumer.
The store is no longer a place to buy, it is a place to experience, a place to engage and a place to explore. Brands are driving this change at both a macro and micro level – combining smart marketing spend with even smarter products and a community feel.
New trends in retail: Physical retail as theme park

(Source: betweenenglandandiowa.com)
Kylie Jenner's recent product launch 'Stormi World' isn't a literal theme park – but it is a destination. A place of joy and excitement. A place to visit and be wowed, driving spend away from an anchored store to pop-ups and event retailing. The luxury players are still ahead of their mainstream peers with this. Louis Vuitton's ski lodge in Gstaad and Dior's jungle pop-up in Tulum both illustrate how far brands will go.
It's destination shopping but not as we currently understand it – these are rich, lavish theatrical showpieces, designed for the Instagram generation.
How can digital retail support physical?

(Photo: Brook Larke, unsplash)
Sales and social media are becoming intertwined. 41% of e-commerce brands used shoppable Instagram posts and stories in 2018-19. Knowing that consumers are heavily influenced by what they see on social media, being able to buy directly on their go-to social platform is the next logical step in omnichannel commerce.
The store of the future is now. Augmented reality, machine learning, and artificial intelligence are here to stay. Retailers are leveraging AR technology to bridge the gap between the digital and the physical. Mega-brands like Target, Lowes and Amazon have launched AR features that allow shoppers to picture furniture in their homes. With the AR market anticipated to reach $133 billion by 2021, smaller retailers are undoubtedly close behind.
Meanwhile, digital-native brands like Bonobos, Glossier, Casper, and Warby Parker are launching and expanding their physical presence too. According to real estate experts, digital native brands are predicted to open 850 brick-and-mortar stores in the next five years, with New York being the most popular destination.
Focus on the community

(Photo: Headway, unsplash)
Most brands are incredibly poor at expressing their purpose, their value to a community. From local charity drivers to yoga classes in stores, tapping into the socially driven 'tribal' customer of today will help cement the future of retail.
At best, brands have a vague expression of this idea. One that rarely translates into tangible customer benefits or is merely self-descriptive. In other words, the brands talk about themselves rather than the value they create for their customers.
Nike Live provides a blueprint for the future of the local store. The experiential store is exclusive to members of the NikePlus loyalty program and caters to the local tastes of the location it's in. Several features from Nike Live, especially the mobile-centricity of the store, were carried over to the retailer's flagships, in Shanghai and on New York's Fifth Avenue. This localised, neighbourhood feel (with 25% of products rotating every two weeks) is one of the defining features of Nike's footprint. This illustrates that the development of hierarchy is key to the brand's success in physical retail. The community store is driving change at a macro level across huge swathes of the business.
The traditional retail store is dead, long live the store of the future.
Physical retail is alive and kicking – it's morphing into something more relevant to today's world. The next article in this series, 'Design', reviews how design, portfolio hierarchy, the employment of 'starchitects' and the development of 'visuals as marketing' have led the revolution in brand physical experience.
---
About the Author
With an ever-desirable passion for creativity and ability to deliver results, Ales Kernjak has enabled consumer engagement for some of the world's biggest brands, including Aesop, PUMA and Timberland. Ales engages in retail concept development, design and roll-out, visual merchandising, visual marketing, staff training and retail operational guidance. Learn more about what he is up to in LinkedIn.