Retail as we know it is dead. That much is certain. But for brands that place the human at the centre of their world, there is much hope for the store of the future.
As we emerge from the Covid-19 pandemic, innovation, technology and brand experience are leading an exciting rebirth in the delivery of offline retail, resulting in more opportunities with community-led and experience-based retail. Here we explore some of the ways store design helps brands to reshape their portfolio
Design-led Solutions
Far from dropping the physical format, we see an enviable number of brands actually investing in their retail portfolio, often with design-led solutions that are built around the consumer. Burberry, Flannels and Louis Vuitton are rapidly expanding their physical footprint despite the pandemic. Let's touch on three ways brands are developing a design language to drive consumers back to a physical space:
Hierarchy of portfolio
The employment of 'Starchitects'
Development of the visual as marketing
Hierarchy of Portfolio
Throughout the 90s and 00s brands raced ahead in global growth at an unprecedented rate, causing finance, visual and design teams to develop a cookie-cutter approach to store roll-out. Formats that looked and felt the same were easy to complete and familiar to consumers who, it was felt, were uneasy with change or newness. The old model of All / Mid / Top was abandoned in favour of a one-size-fits-all easy to roll-out solution.
While this approach still has a place, mobiles have led to consumers being in touch with trends faster than ever before. Seeing a kaleidoscopic level of choice, consumers demand experiences that are locally thought out, bespoke and mindful of local customs and materials.
Fast forward to the start of 2020 and we see the divergence of flagship and local stores as a more modern and human-centric retail offer.
Let's dive into two high-profile openings in London from 2019. The London Maison by Louis Vuitton – already their largest and most expensive investment that only opened in 2010 – was closed for re-development for nearly 14 months. Completed in 2019, they expanded the store with a second building, a huge vote of confidence for the future of physical retail. Designed by New York 'Starchitect' Peter Marino, the store functions as a travel destination with changeable gallery spaces and artwork from 25 artists, including the likes of Campana Brothers, Tracey Emin, Annie Morris and Sarah Crowner.
Another example, this time from the mass-market end of the spectrum, is the latest Adidas outpost. The store features over 100 digital touchpoints powered by green energy.
Not only does it showcase Adidas' latest and best-selling releases, but it also offers a tech-driven customer experience including an interactive changing room. In The Base, visitors participate in product-based experiences, activations and interactive challenges in an immersive environment made from LED screens with flooring that can change mood and purpose at the click of a button.
Future brick-and-mortar retail spaces with engaging shopping experiences that respond as quickly and as personally as their digital counterparts look set to thrive. The space must be able to communicate with its city through people and digital services, inviting a conversation that's synchronised with the customer.
At the top of the hierarchy is the flagship – a place to develop the tone of voice and tech roll-out for the local or community store.
The Employment of 'Starchitects'
The employment of big-name architects is nothing new in retail, the Joseph store staircase designed by Eva Jiřičnáin in the 90s shook every corner of interior design and continues to be copied to this day. It's possible to draw a direct comparison between the original and the Apple store of today.
Arguably, Prada took it to the next level, with their SoHo outpost in New York and the Harajuku store. Prada called hese 'Starchitect'-designed stores 'little earthquakes' that create brand presence wherever they open. OMA, Rem Koolhaas and Herzog de Meuron are just some of the architects attached to such locations. The employment of the architect attracts as much attention as the store, becoming both innovative injections into brand culture and the ultimate marketing tool.
While the employment of big-name agencies isn't the norm for every brand, the value of the visual excitement these collaborations attract is unprecedented.
Development of the Visual as Marketing
The next step in the frontier of 'design as destination' is the development of visuals as a built-in architectural treatment and product marketing tool. No store embodies this radical evolution as much as the Puma Flagship in Osaka, a store built around the joy of both brand and retail.
The lower two floors of the four-storey Puma building are designated as a 600 sqm shopping space. The upper level, an open rooftop, is surrounded by a light façade construction creating an open space for performances and sports events. The innovative use of staircase elements to display products as well as the ceiling details that highlight the sustainable 'clever little bag' footwear storage system are examples of where the Puma store comes into its own. This 'product as prop' identifier is replicated across multiple retail formats the world over.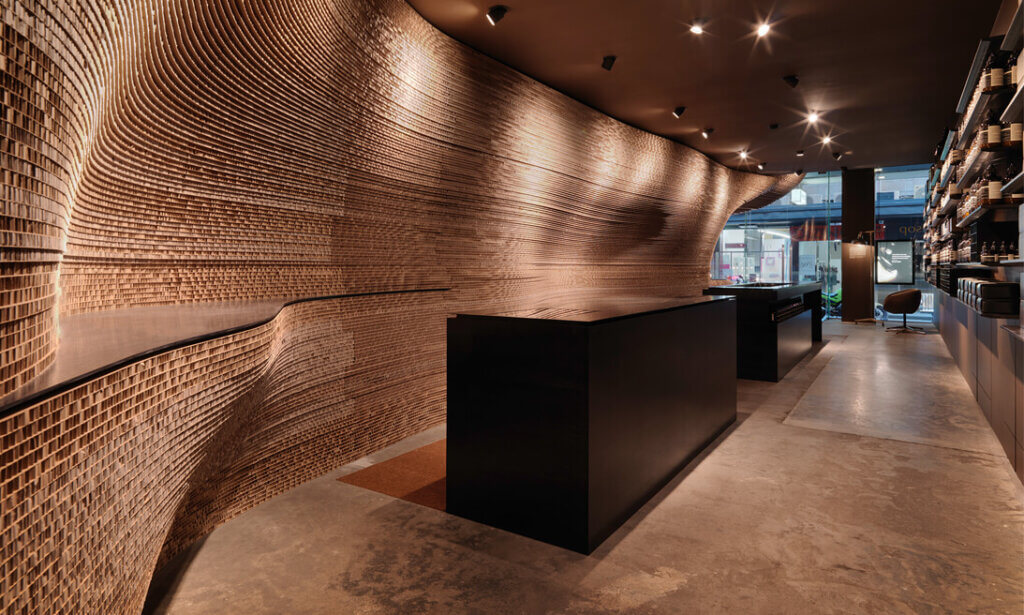 Aesop, another design-led brand, used design to carve itself a niche in a crowded skincare market. They've been able to stay true to their initial realisation and core marketing strategy: the sans-serif typography and graphic design, the eschewing of celebrity endorsement or advertising, and the tactile, scientific packaging and aesthetic.
Central to the Aesop 'sweet spot' is the personal experience of the in-store consultation, albeit with subtle, culturally driven, localised variation. No two stores are alike, as any store brief allows for a new, localised design interpretation every single time. While also speaking to the core of the brand – sustainability plays a huge part in the store aesthetic.
Design is and does
Design is central to the store of the future. Design speaks to a consumer eager for a beautiful, aesthetically pleasing shopping journey. Design is considerate of technological change. And design is mindful of today's image-conscious selfie-hungry generation as well as the huge adaptations we all had to make in the wake of the pandemic.
---
About the Author:
With an ever-desirable passion for creativity and ability to deliver results, Ales Kernjak has enabled consumer engagement for some of the world's biggest brands, including Aesop, PUMA and Timberland. With expertise in retail brand identity, Ales engages a wide range of disciplines: retail concept development, design and roll-out, visual merchandising, visual marketing, staff training and retail operational guidance. Read more of his work here, connect with him on LinkedIn.