Expectations for same-day delivery tripled in a year. Learn why retailers & brands have to prioritize work on their Last Mile Delivery Management.
Consumers' Perspective on Same-Day Delivery
Fast delivery has gained momentum for customers today. A recent study conducted by Metapack & ResearchNow shows that 52% of shoppers rank the speed of delivery as either their top or second most important priority (up from 30% in 2016). In line with this finding, the proportion of shoppers who have abandoned shopping carts due to the lack of a Same-Day delivery option has almost tripled from 10% in 2016 to 27% in 2017 (US only). All this just underlines how important it is to start working on your last mile delivery management.
As a frequent shopper of various brands, however, I regularly find this increasingly important option to be missing from the online shops of leading brands. This calls for some more investigation into the challenges and (missed) opportunities.
Last Mile Delivery as the New Standard for Online Pure Players
Last Mile Delivery is becoming a standard for pure-players. Focused mostly on metropolitan areas for the time being, Amazon demonstrates last mile management by delivery same day, to their PrimeNow members.
Zalando has just launched a platform to allow shipping from brands' stores with same-day or next-day delivery across the whole of Germany. 600 stores are already connected, and Zalando plans to expand this service to the Netherlands in 2019.
ASOS demonstrates last mile delivery management by offering customers in the UK 6(!) different delivery options. Similar to rival Amazon, the same-day delivery service is limited to metropolitan areas.
| | Type of delivery | Time to Customer |
| --- | --- | --- |
| | Standard Delivery | 3 days after placing order |
| | Click & Collect | 3 days after placing order |
| | Next Day Delivery | 1 day after placing order |
| | Click & Collect Next Day | 1 day after placing order |
| | Precise Deliver (1h timeslot) | Delivery day 1-10 days in advance |
| | Evening Next Day Delivery | Next day between 6-10pm |
| | ASOS Instant | Same day between 5-10pm |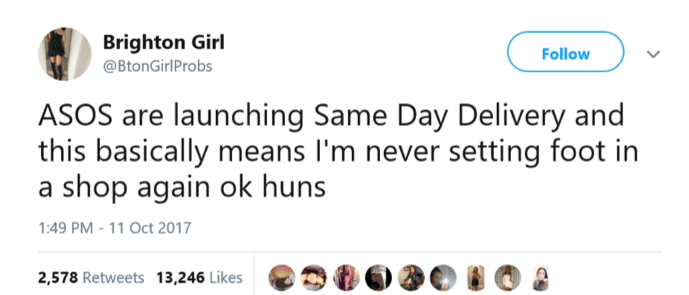 Same-day becomes a standard in Last Mile Delivery Management
While brands are still busy keeping up with online pure players on the front-end, for instance, to improve site-speed and optimise the check-out process, they risk losing their customers on the back-end where same-day delivery is already getting the full attention of e-commerce pure players. Of course, last mile management can be offered by brands who sell through platforms and pure players. In offering this only at market places, however, brands put themselves at risk of losing further means of direct access to their customers, respectively customer data.
Last Mile Delivery Management for Brands
There are three main areas for brands to work on their last mile delivery management. The first is shipping from a distribution centre (DC), which has the advantage of using current infrastructures at relatively low cost and complexity.
The second scenario is utilising stock available in stores. This option relies on picking up goods directly from stores and feasibility thus depends on whether inventory systems are integrated across channels. Benefits of this scenario are the late cut-off time for customer orders and the possibility of moving into instant (i.e. 2-hour delivery) in the future. In addition to increasing availability on the website, end-of-season stock in stores can be lowered by by selling those scattered sizes and styles through the online store instead. Inditex is set to roll out this strategy in more than 2000 stores across 48 countries. However, besides the higher shipping cost in this scenario, one should also account for the additional time needed and complexity for store staff.
| Scenario | Order | Delivery | Arrival | Cost/parcel |
| --- | --- | --- | --- | --- |
| Ship from DC | Noon | Pick-up by logistics service provider; batch of >10 parcels | Evening | € 6-6.50 |
| Ship from store | Around 3-4pm | Larger players and local partners; pick-up per parcel | Evening | € 9-12 |
| Ship from 'dark stores' | Around 3-4pm | Larger players and local partners; pick-up per parcel | Evening | € 9-12 |
The third scenario, the creation of inner-city hubs (so called 'dark stores'), combines the benefits of the first two scenarios. But it comes with high rental costs in good locations as well as the need to trade this off against having less sales space available.
Prerequisites for all three scenarios are the availability of real-time information on stock levels, as well as fast service levels in distribution centers, hubs or stores to prepare shipments in a timely manner.
Act on the Same-Day Delivery Trend Now
Brand managers need to act on last mile management now and start prioritising where and how to offer same-day delivery. Amazon will make same day delivery a standard for customers, and the adoption rate is especially high with the coveted millennials.
For a start, Marketing should evaluate where Net Promoter Scores (NPS) can be impacted the most by providing the additional delivery service. Having clearly defined key markets also helps determine what regions to focus on. Adidas, for instance, has defined six key cities, in which the company strives to lead in terms of NPS, Sales and Market Share.
Numerous start-ups and logistics providers are standing by, ready to support brands in their last mile management ambitions, either by shipping from a distribution center or from stores. If this hasn't already been tackled, retail managers should ensure that stock management systems are aligned across stores, warehouses and e-commerce. If done right, the benefits are not only higher conversion rates but, most importantly, keeping customers (and their data) within the brand's own sales channels.
Featured image courtesy of Citkar.
---
About the Author:
Maximilian Gellert is passionate about transforming digital technologies into pragmatic every-day solutions for retailers. Combining consulting experience with industry functions in premium apparel and online grocery, he supports retailers and etailers in their digital challenges and last mile innovation. Read more of his work here or connect with him on LinkedIn.