One way or another, brand growth management can be colourful exiting, and we won more than 30 experts to share it with you. We turn five this month, a great opportunity to look back at some of our best stories.
What happened 5 Years ago
"Time passes so quickly, the world was a different place" as aunty always says. That probably rings truer now than in most other years. 2016 the Olympics were in Rio, the world thought the Zika virus is a global threat, Donald Trump was an outsider candidate, and McKinsey titled the state of fashion report "a year to forget."
Little did we know …
But 2016 was also the year when in the middle of brand-nowhere (Gladbeck, Germany) six friends of innovative retail and quality brand distribution ponder the idea to blog.
Their recipe: Take a few years of brand industry experience, add proper analysis/fact checking (it is the year of Trump-rising after all) and share that in light-hearted doses of weekly quality reading, and you get Brand Growth Inspiration.
2016 – 2021 ♫♪ Ch Ch Changes
The years to follow were a steep learning curve, for the industry and us. But a time jump to 2016 publishing will also tell you, nothing we experience today is really new today. What shapes the markets 2021 was there in 2016, just the dynamics of change have changed.
2016-2021 we witnessed giant changes. D2C and marketplaces, for instance, increased in attractiveness and sales. As a result, the share of boring multi-brand retailers dwindled. Not a loss.
The past five years also saw young innovative brands expanding internationally. We shared for example about Freitag, Rapha, Lululemon, and their innovative ways to grow from regional distribution to global brand presence. And we shared 'how to' organize international growth in emerging India, China, or Mexico. We also shared strategies for sustainability or diversity and inclusion, and we like that they are most read/most shared.
To us, they are not soft skills, but strategic heart to a brand's future, that will separate true brands from blown-up marketing stories. This is where our blog's mission comes fully into fruition – to inspire quality growth.
But we confess, we also have an obsession for brand and retail KPIs, especially the unusual ones. You saw us sharing about delayed conversion rates in Saudi Arabia, the bow factor in Japan or vivid colours per sqm in Berlin. All these tell about the complexity and beauty of performance management in brand distribution.
KPIs of Our Weekly Dose of Inspiration
Up to now, we shared 236 posts that inspired more than quarter million readers. All grown organically, just by word of mouth, we became a Google favourite in brand quality read. Be it a post about the future in distribution, the rise of destination stores, our best posts receive over 50 weekly reads, years after publication. Thank you for that support.
And we owe all this to a steadily growing crowd of excellent contributors, currently 31. That is possibly our most beautiful KPI, as back in 2016 we would have never expected to find so many industry experts interested to share their experience and knowledge.
Working and living in four continents, they write about the last mile developments in the Netherlands, the Star Wars between retail and online or why brands are from Venus and retailers come from Mars. Altogether a mix of colourful insights from retail, wholesale & e.com from the world's greatest experts.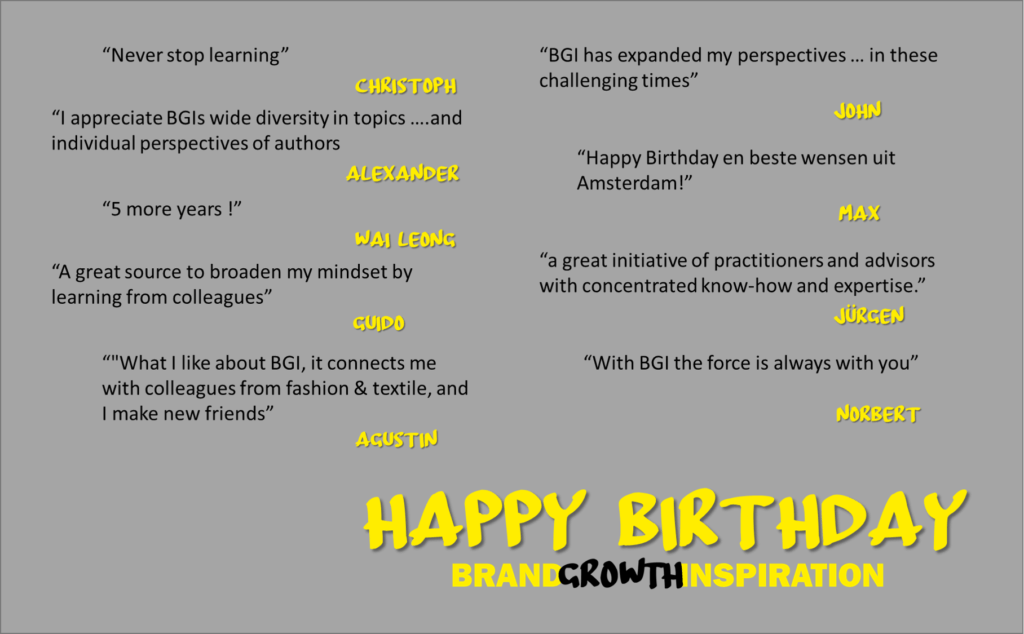 And next?
Coming out of Covid-19, we think we have the most interesting times of brand distribution ahead. Where doomsday messengers see the final extinction of brick and mortar, we see online pure players investing in retail and new multi-brand & brand wholesale evolving. Online will grow its share, but we expect to see a decade of retail innovation. And brands and their stores will play a key role as they invested more than US$ 200 million in retail flagships openings in the first half of this year alone.
Where markets move at light speed, we promise to stay on top of what drives them, online and offline. Our list of yet untold brand best practices is still longer than we can finish writing up anytime soon. We will share strategic reviews of new brands, retailers and business models. And obviously, how distribution channels evolve.
Being open source, commercial free and deeply rooted in the industry, we will have more knowable contributors joining already next months. We will answer the "10 m question of retail vs online" and rumours have it, Star Wars episode 2 is also in the making.
So stay tuned in, at least until we turn 10!
Christoph, Max, Nicole & Guido