Financial planning teams are gearing up for next year's budget planning as well as the new three-year plan. Our new short series walks you trough different considerations and scenarios for each channel.
Our Setting for the Invest
We assume that you are a young fashion brand positioned in the upper middle of the European market. You have been growing to € 40 million in net sales over the last five years, mostly in your home country (Germany) and two neighbouring countries (Austria and the Netherlands). First wholesale customers (online & retail) have brought you into further countries.
Your overall channel mix follows a typical brand distribution with 50% wholesale, 25% own retail,  and 25% online. Your growth outlook in the existing markets is ok, and you are overall profitable, with wholesale contributing a 15% EBIT, while your D2C in retail and online ranges between 5% and 7%, depending on the aggressiveness of expansion/marketing spending.
While this all sounds pretty good for a start-up brand, your strategic ambition is bigger: You want to grow faster and become truly international. Considering that online saw the strongest growth over recent years and expectations are high for the future, you decide to begin with this channel.
The Online Baseline
With € 10m online net sales in Germany, Austria and the Netherlands, the website already reaches more than 8m visitors per annum. Sales amount to 350k orders that contribute to € 750k profit before fixed costs for IT infrastructure and the ecom team.
Your digital commerce platform and systems are already set up to allow further growth and scale, as significant growth was anticipated already some years ago. However, in the last half year, growth in the home markets has slowed down somewhat, leading to higher traffic acquisition costs.
Social Media Can Tell You Where Your Fans and Customers Are
When investigating which countries to consider for expansion, marketing information such as social media activity and followers indicate most interest from Western Europe. Other marketing research as well as an analysis of visitors to your website from other markets confirm this.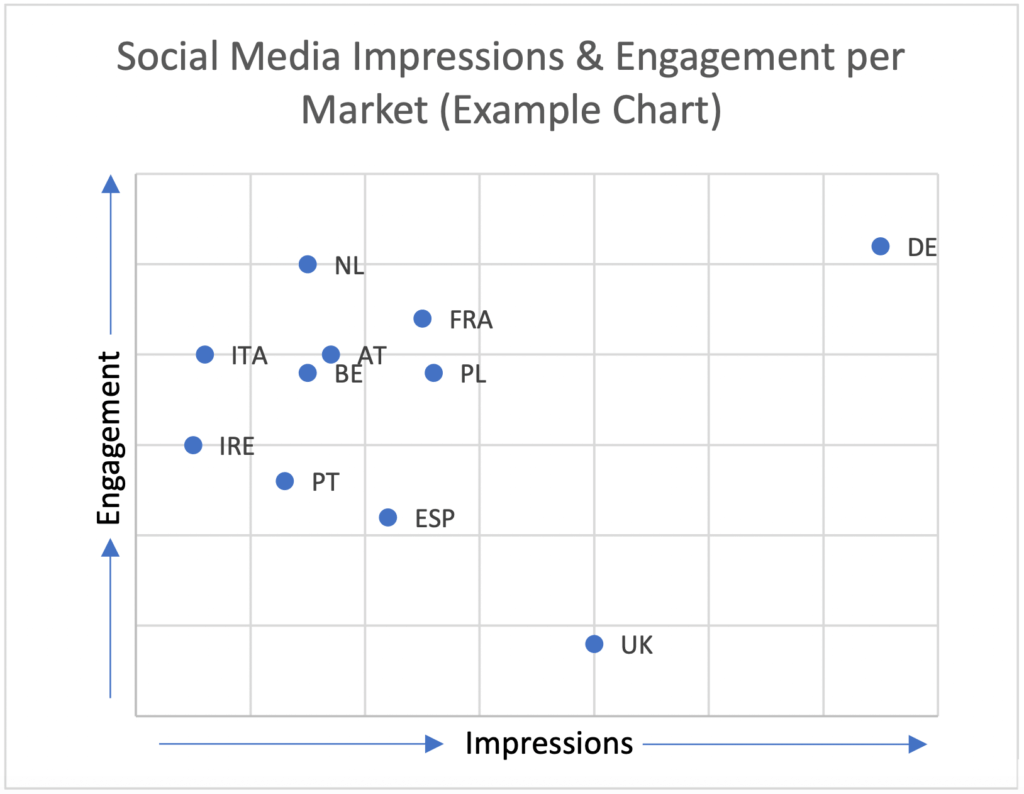 Don't Forget about Your Current Business When Expanding to Other Markets
Having outlined the market potential, you look at the implementation efforts to determine the costs and resources needed over the next few years. Local languages and some level of localisation are key to establishing the brand in new markets.
However, eight new countries with six new languages are too much to handle at once in terms of marketing content and communication as well as customer service. That's why you decide to focus on France and Belgium with a website in French, followed by an English presence to serve Ireland and the UK as well as a 'Europe Other' site. In addition to lower marketing efforts, this decision also means that customer service can be limited to a few languages initially.

Brexit Is a Challenge for Many Brands
Shipping parcels to France and Belgium can easily be facilitated out of the current logistics warehouse. But UK customs duties can make logistics and customer service a challenge for fashion brands. While the UK is the market with the largest potential, it's also the most complex one. Given that the UK left the European Union, customs duties and operational processes like outbound and customer returns can be challenging. Fortunately in the case of our brand, the average basket of € 65 is below the customs duty threshold, making it cheaper to ship from Continental Europe.  Whilst you believe that current supply-chain challenges in the UK will be solved over the next years, you realise that if this is not the case, specific logistics facilities in the UK will be needed in the future.
Another advantage of having an English language site is its benefit for serving countries that are not yet localised. This presents both, an opportunity to sell to other markets and to test any consumer demand for further expansion. From a payment service and IT perspective, the expansion plans are manageable with additional project resources.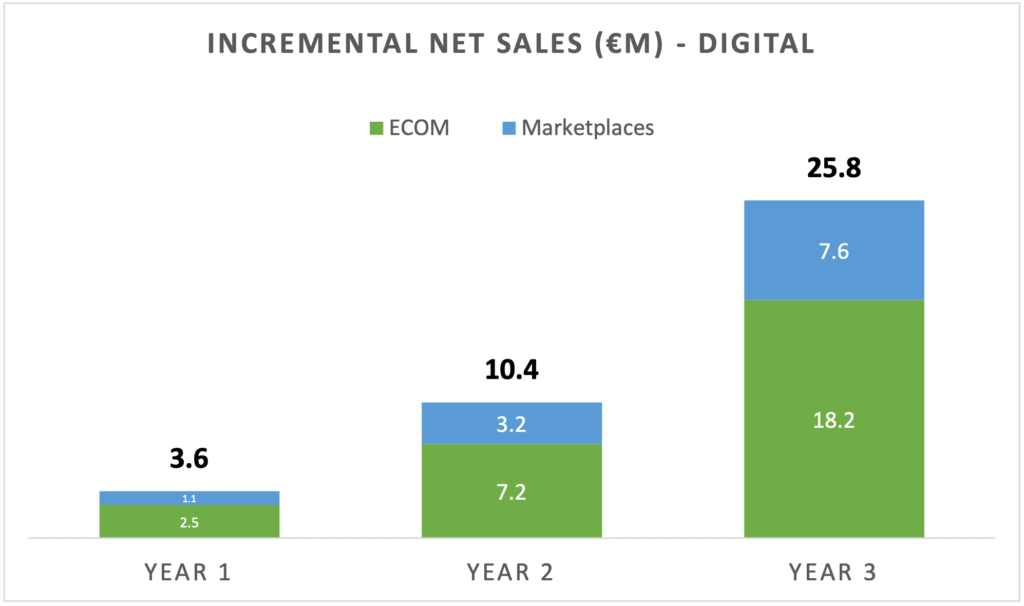 With an additional net sales of € 18 million from e-commerce in year three, the team gets excited about the growth plans. However, because Google Advertising and social media (including influencers) are a key driver for this growth, an additional € 500k is allocated for the expansion. While some spill-over effects can be realised in the home markets, further leveraging of the marketing spend by setting up a marketplace team is suggested.
Marketplaces Increase Brand Control and Growth
To keep costs under control and maintain flexibility to scale, a small marketplace team is hired to work with integrators on launching the brand quickly on a few marketplaces relevant to the European markets.  In total, this leads to an additional sales potential of € 7.5 million in year three with a significantly better bottom-line. (we ignore in our calculation that better brand management on marketplaces can also have a positive effect on resellers / online pure players).
Leveraging Current Infrastructure to Control Fixed Costs
At a closer look, we see that only € 3 million in fixed cost will be invested over three years. Most of the variable costs (€ 21 million ) are directly linked to actual orders or social and online marketing cost, which can quickly be reduced or halted entirely in case of a strategy change or other market conditions. The (incremental) fixed costs in our case are also low given that the current platform and (outsourced) warehouse infrastructure can be utilised for the expansion plans without much adjustment. This is a key advantage in a market that is still growing and moving very dynamically, as it allows for adjustment among markets and channels if needed.
The next part of this series will dive into the three-year planning for wholesale and retail, stay tuned!
---
About the Author:
Maximilian Gellert is passionate about transforming digital technologies into pragmatic every-day solutions for retailers.  Combining consulting experience with industry functions in premium apparel and online grocery, he supports retailers and etailers in their digital challenges and last mile innovation. Read more of his work here or connect with him on LinkedIn.