Marketplace and wholesale business benefit from each other. Choose from four ways to overcome your budget limitations and become your own selling hero.
Online sales are still growing, not least due to the Covid-19 pandemic.
Zalando have recently corrected their figures to show growth for 2020 once more, expecting a GMV growth of 10-20%. As an online shop, Zalando offers two main ways for brands to sell their products. You can either sell your products to Zalando via conventional wholesale business where Zalando acts as the retailer, or opt to sell your own products via Zalando's partner programme.
What Zalando calls their partner programme (PP), is offered by many other online shops too. This is called the marketplace business. Amazon, About you, La Redoute, Bol, MyToys, Sportscheck or Douglas are a few examples of marketplaces in Europe. And with most of them, you have the option of marketplace and wholesale business.
There are so many different ways for brands to sell their products online. Here, I focus on selling via online wholesale in a B2B model and via online marketplaces in a B2C model.
1. Online Wholesale Business: Selling, Shipping & Done
The online wholesale business is the sales channel that most brands are familiar with. Meeting the buyer every season, getting a budget depending on the sell-through of the previous season, and showing them the new products of the coming season. You receive an order of pre-selected items, send the goods as soon as they are produced at the beginning of the following season, and perhaps provide product data and images.
After the products are shipped, you don't need to worry about them any longer. Done. Pretty comfortable. Next season, you start over along the same lines. Are there additional possibilities to support your products in sales afterwards? Sure, but you are not required to do a thing.

This is what the wholesale model looks like. The brand gets a budget and sends over the complete order of products to the buyer. A selection of your brands top articles could look like the chart below. The buyer orders a few pieces of article 1, 2, 4 and 5. They are not interested in article 3 and therefore don't order any. The buyer receives the goods and sells them in their online shop, at a price of their choosing.
The advantage of this model is that you have less stock risk. But while the online shop may conform with your recommended retail price, they don't have to and that's out of your control.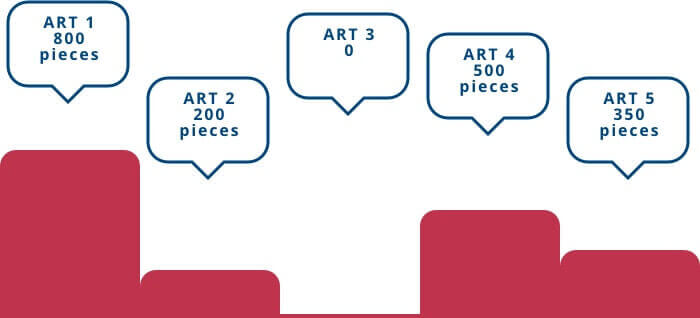 To summarise the online wholesale business for a brand:
The buyer selects your articles
Not all products will get placed
You have to work with a limited budget
The buyer determines the retail price of your products
Your end customer  doesn't have access to your entire assortment
You are dependent of your buyer
It's a fairly comfortable business model
2. Adding Additional Stock on Pre-selected Articles
In recent years, many online shops have begun to offer brands the opportunity to sell their own products as marketplace sellers. This means that you can combine your wholesale business with marketplace business.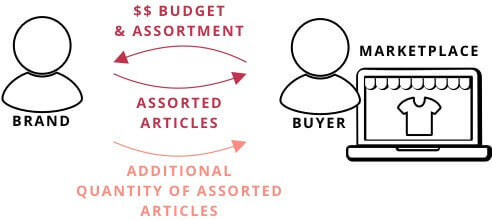 Adding marketplace business to your wholesale business gives you the opportunity to add stock to the articles your buyer has chosen. For instance, you may feel that the buyer didn't order enough of your top articles. In our example, 800 pieces of article 1 were ordered wholesale. You have the option to add another 50 pieces via the marketplace model to fulfil customer demand.
In this case, you are the backup as soon as your buyer runs out of stock on this article. Sometimes that's the case even for NOS products if the buyer can't restock fast enough. As a seller, you become your own out-of-stock backup. As you are the owner of your marketplace stock, however, you also take the stock risk.
To summarise online wholesale with added marketplace stock for a brand:
Higher availability of your articles
Fewer sold out items for your end customer
Increased turnover
Stock risk is on your side
3. Selling Additional Articles Via Marketplace
Did your buyer not order all articles you were hoping for? Would you like to show a much wider selection of your brand at this online shop? Or did you get a budget cut for some categories?
Other than adding stock on pre-selected articles, you can also add articles that weren't selected in the wholesale order via the marketplace. This allows you to choose which articles to sell where, or to show your entire assortment if you like. And you own the selling price as you sell directly to your customers. But depending on the marketplace, there may be price competition on your articles in case other retailers sell the same items.
This means that you can now add additional stock to items that were ordered wholesale and you can add all other articles you want to sell online yourself. In this example, you might add 600 pieces of your top 3 article via the marketplace.
Even if a buyer only selected 20% of your complete assortment, the marketplace allows you to offer your entire assortment. The 20% as a back-up if the buyer runs out and the remaining 80% as additional selection for the end customer.
To summarise the combined online wholesale and marketplace business for a brand:
Brand owns selection
Wider selection
Brand owns selling price
Increased turnover
No external limitations
Brand is its own selling hero
Stock risk is on your side
4. Only Selling via Marketplace Business
You didn't get a budget for the coming season? You don't want to sell your products via online wholesale? Or your brand is only offered the marketplace model? That's your opportunity to decide independently what products you do want to sell via the marketplace model. You can choose to sell your complete assortment, just a few pieces, or a curated assortment for each marketplace and country. It's entirely up to you and your possibilities.

Setting up your own marketplace business means extra work as well as the opportunity to become your own selling hero. You have to set up all of your processes for B2C shipping and control this sales channel on your own. You get to decide on the selling price of your products. And in my opinion it's also a good and fast way to test new products.
In our example, you can now offer a selection from your assortment in your chosen width and depth. As you are fully responsible for your marketplace business, you have to order as well as ship to end customers yourself, and are responsible for all the steps in between.

To prevent entering price competition on articles a brand is already selling wholesale, the marketplace business offers the opportunity to re-invent yourself and adapt your products. You can optimise your assortment and build up completely new articles that are exclusively sold via marketplace to offer unique products.
At the same time, you can adapt and diversify existing products. For instance, you can create multipacks or matching sets, e.g. selling a multipack of leggings or a baby romper along with a matching jacket.
To summarise the marketplace model for a brand:
Brand owns selection
Brand has full responsibility of the entire B2C process
Brand owns selling price
Just own limitations in turnover
Fully flexible and responsible
No external limitations
Brand is its own selling hero
Four Ways: Choose Wisely
We've explored four different ways of selling your products via online shops:
Just Wholesale
Wholesale & Marketplace by adding stock for pre-selected articles
Wholesale & Marketplace by adding additional articles that weren't selected
Just Marketplace
As a brand, you are free to choose whichever marketplace and wholesale business model suits you and your products best. Keep in mind that each comes with its own opportunities as well as challenges.
Consider your online sales goals before you begin. Wholesale is the more familiar and comfortable business model and comes with a little lower risk. Marketplaces offer many opportunities to grow business as a brand. You define your own selling price, are only restricted by your own limits, e.g. in turnover, and are solely responsible for your stock and processes.
Choose wisely! And if you need help in making this decision, please feel free to get in touch. I would love to support you with my expertise and learnings from my experience in the online marketplace and wholesale business.
---
About the Author:
Valerie Dichtl has been responsible for fashion buying (Amazon), selling via marketplaces, and online wholesale for nine years. Combining her experience from brand site, online retail and consulting in the fashion industry, she supports brands in defining and implementing their online sales strategy. She helps brands sell independently from wholesale on online fashion marketplaces and enables the needed knowledge. Read more of her work here or connect with her on LinkedIn.
All graphics created by Karolin Matthiä.