The apparel industry is a significant environmental polluter. Some brands are tackling the challenge of recycling used clothing, but the issue might require more draconian steps.
18 months ago, I optimistically wrote about the opportunities and new business models tackling circular apparel. Since then, we've faced a global pandemic and seen its impact, positive and negative, on brands, retailers and consumers. As life hopefully continues to return to a more normal state for all of us, I want to revisit more deeply the impact that the apparel industry has on the environment and offer some potential solutions to help address these serious issues.
Issue #1 – We're buying too much stuff
The US apparel market has faced numerous challenges over the past two decades with the rise of fast fashion, shifts in spending patterns by millennials and two major recessions. This has helped drive US consumers to buy more pieces of clothing but at much lower prices, many of which are rarely worn.
Issue #2 – Apparel is a major environmental polluter
All these clothes we buy have to go somewhere when we no longer wear them. Unfortunately, 85% of clothing waste in the United States ends up in a landfill or is burned, making up 5% of total landfill space. Our penchant for comfortable workout gear or stretchy leggings leads brands to heavily rely on synthetic materials, which will not decay when landfilled. This excessive waste generates 8-10% of global carbon emissions from apparel, equivalent to emissions form agriculture.
Our appetite for disposable clothing also impacts developing countries, as much of this surplus clothing is sent to poorer countries to deal with. This not only hurts local artisans who have to compete against cheap second-hand imports, but also shifts the environmental headache to countries that can't afford it.
Issue #3 – Greenwashing or authentic efforts by leading brands?
When Patagonia launched their national Don't Buy This Jacket ad on Black Friday 2011, they made a bold statement about the need to reduce our consumption. As a privately held company whose culture and consumers value environmental sustainability, this strategy perfectly aligned with their core values. Over the past 20 years, multiple corporations have jumped on the corporate social responsibility (CSR) bandwagon, yet global CO2 emissions continue to rise.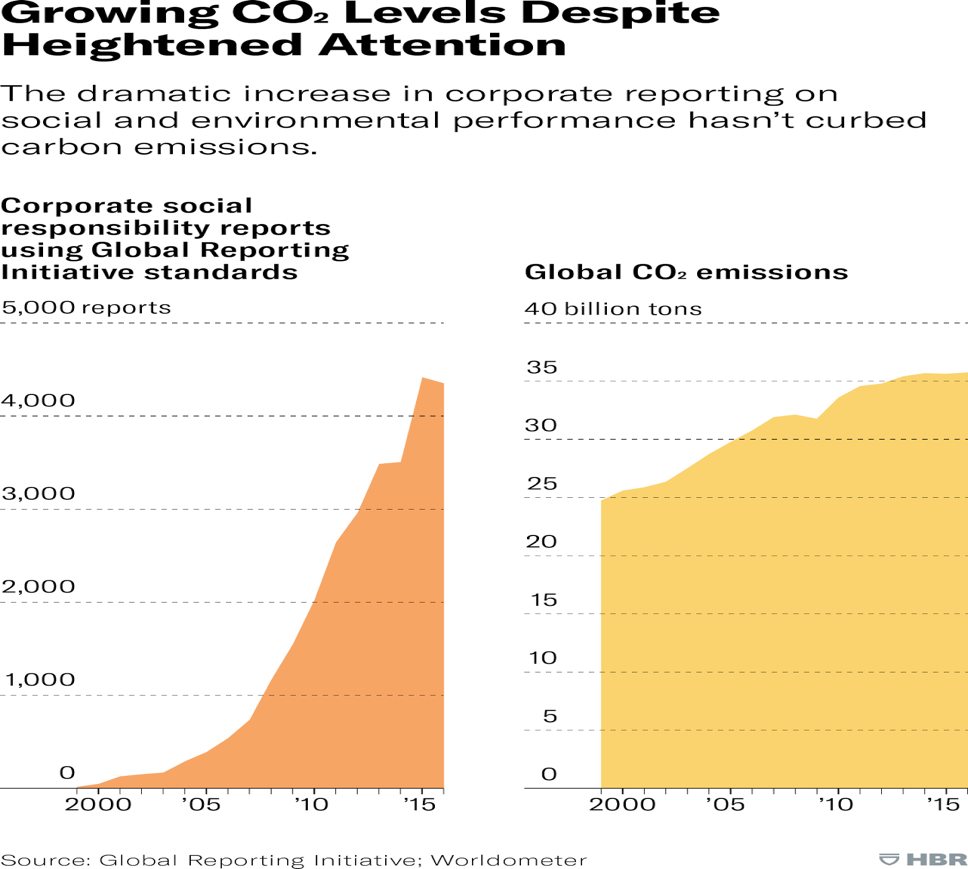 Global brands like Nike, H&M and Zara have launched their own take back program, resale initiative or eco-friendly product line with great fanfare. H&M, for example, stated that they plan to cut emissions in half by 2030. During the past for years, however, they have only been able to reduce emissions by 3%. This level of greenwashing helps to burnish the company's image while also contributing to consumer confusion about the real impact they do/don't have on the environment.
How does the apparel industry address this issue?
This is a complex, global issue that no single entity can solve alone. I've also come to believe during my career, that most corporations will try to protect the status quo unless there is an economic or legal incentive to change. For example, most major automakers 10-20 years ago were not willing to invest billions of dollars to develop electric vehicles until Tesla entered the market and government incentives helped spur consumer interest in electric cars. And still, plug-in vehicles only represent 5% of total global automobile sales.
Market & economic solutions
Support brands that make 'less stuff': When I was at Nike, the buzzword was "edit to amplify". Currently, up to 40% of clothing is sold at a discount or not at all. Reducing overproduction could have an immediate impact on the environment and help brands to save money.
Shift personal shopping behavior towards more 'circular friendly' brands, retailers and business models. Companies like Rent the Runway, ThreadUp, Patagonia Worn Wear, Eileen Fisher ReNew, Levi's SecondHand are examples of new business that give used clothing a second (or third) life. In fact, the resale and rental market for clothes is one of the fastest growing segments and is expected to reach over 13% of the US apparel market by 2027, larger than department stores and fast fashion.
Make use of vacant retail space to provide used clothing brands, retailers and charities a footprint at a significantly reduced cost in major malls and high streets.
Educate yourself on those brands that are truly committed to being part of a circular solution and those that appear guilty of greenwashing.
Government involvement
I am largely a proponent of free trade and letting market forces influence behavior. Yet, the size and complexity of the problem lead me to believe that a level of government involvement may also be needed to help solve this issue. Ideas on how governments might help include:
Establish standards on the percentage of eco-friendly materials each apparel brand must have in their product line, similar to the fuel mileage automakers need to achieve.
Utilize economic incentives for landlords to provide low-cost retail space to circular apparel brands and retailers.
Appoint a Fashion Czar in the White House and other governments to coordinate and accelerate the apparel industry's efforts to become more sustainable.
Shift some of the 50 million USD in ad spending on Covid-19 and vaccination awareness towards educating consumers on the need for greater circularity with their clothing.
I recognize that none of these ideas will single-handedly change the direction the apparel industry is taking. Yet, a concerted and collective effort by brands, consumers and even governments to change their behaviors is needed to create an industry that is both profitable and less harmful to the environment.
---
About the Author:
With 25+ years in the sports and fashion industry across the United States, Europe and Asia, John Ensminger, founder of Everest Consulting LLC, has worked with leading brands including Nike, The North Face, K2 Sports and Carhartt to develop breakthrough, actionable strategies that strengthen their brand position and drive growth and profitability. Read more of his work here.