H&M gave up their monthly reporting in July. An indication of an ailing retailer? Debatable – Zara never did it in the first place.
Three years after H&M gave up on like for like reporting, they stopped publishing monthly sales figures altogether. H&M follows the path of other well-known retailers that no longer publicly report monthly details of their like for like retail performance.
Critics were quick to jump to the conclusion that H&M stopping their monthly reporting had to be related to difficulties in maintaining growth.
That's a possibility. However, Inditex and other highly successful retail groups never reported publicly monthly sales, or even like for like. Our question, therefore, seems valid: is there any evidence for a correlation between like for like retail performance reporting and growth success in the day and age of the internet?
Definition: Like for Like Sales

Like for like sales is retail performance measure and often called 'comp growth', 'comparable growth', 'organic growth', or abbreviated as 'L4L'. Like for like measures how sales grows on a given fixed retail space. The change is reported in % compared to the previous year and shows either a growth or a decline.
Measuring Retail Performance With Like for Like
We wanted to find out whether like for like is still a good retail performance measure and invited retail and controlling executives Andreas Klotz and Guido Schild to battle it out. What's the deal with like for like? Why be shy about reporting one's true retail performance? And, why are controllers so keen on like for like?­ We have collected the highlights of their pro and con debate to inspire your own in-house discussion.

Fair View
Like for like reporting supports the management in measuring the sales performance over a period of time compared to the same period of the previous year – to gain a comparable and fair view. Using like for like sales is a method of valuation that excludes any effects of expansion, acquisition or other events that might artificially inflate a company's sales. –Andreas

Complexity
Tracking like for like retail sales in the time of omni channel distribution is a highly complex undertaking. The time and effort required to calculate a 'fair share' of sales contribution from stores is considerable. This raises the question whether it might make more sense to focus on simpler retail performance KPIs such as conversion rates. –Guido

Early Warning System
Like for like comparisons serve as a good early indicator of a shrinking or growing brand awareness. Due to expansion into new markets, the brand may overall still grow, but the like for like of existing stores shows early on whether that growth remains healthy. Twelve months' worth of shrinking like for like sales almost certainly indicate trouble to come. Like for like sales growth is healthy growth. –Andreas

Full Control
Key Performance Indicators work as performance motivators as long as people believe they can control and influence their performance. We should stop measuring stores managers by their like for like sales performance if they don't retain full control over store traffic and performance-enhancing tools such as retail marketing and markdown budgets. –Guido

Channel Controlling
Given the current investments in omni channel distribution, it is essential to monitor the performance of each channel and to take into account how their success differs. Like for like retail sales is an important measure to gain a clear view of distribution success and to manage it appropriately. –Andreas

Multichannel Thinking
Like for like pure store performance reporting cements last-century thinking and encourages retail managers to view other distribution channels as their competition. New-millennium omni channel thinking requires store managers who encourage consumers to make use of all brand channels in their shopping experience. –Guido

Comparability
Like for like allows us to compare similar entities to one another – not only across different time periods but also between different stores. The objective of such like for like comparison is to have an adequate measure of a competition on a level playing field. –Andreas

Short-Term Thinking
Chasing like for like sales growth to please investors quarter by quarter is short-term thinking incarnate. The biggest risk is that like for like growth is fairly easy to create. With markdowns, for example, sales will soar instantly. After a few quarters of this your like for like will look great, but your brand will burn. –Guido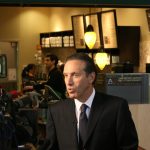 Familiar & Key Performance Indicator
New-millennium brand distribution and performance controlling likely brought 100 new creative, but complex performance indicators. Like for like sales survived and is still the best-known performance indicator to measure a true and healthy growth. Throw away the fancy performance measures and teach how to manage this key performance indicator instead. –Andreas

Zero Like for Like Management
All retailers are likely to collect like for like performance figures in-house. As long all is well on the growth front, no one cares much about these figures. And when trouble arrives, the list of arguments why these figures don't tell the full story grows longer by the month. Have the courage to throw out KPIs you don't follow (Example the 4 Wall Contribution (4WC) is a much more meaningful KPI, but that is worth its own post). –Guido
What Do You Think?
The questions of value, sense and nonsense of like for like retail performance measurement is probably as old as retail controlling itself. What has been your experience with like for like? We would love to hear what you think. Grow the list of qualitative pro or cons by adding your very own perspective in the comments.
---
About the Authors:
Andreas and Guido fought more than one battle about the best way to measure and manage performance for successful retail growth. Andreas is an experienced CFO and a regular advisor to boards and investors. Guido is a brand coach and interim manager. The best way to get in touch with the authors is via email to Andreas or Guido.