When airlines were grounded, strategic sourcing had to find new ways. We share five emerging best practices
Over the past decade, all sourcing discussions at the Textile Buying HQ, were about:
Finding lower prices
How to be more sustainable
Exploring alternative production countries
After months of watching the Covid-19 pandemic shake the global economy and adapting our personal lifestyle and company practices to a low touch economy, it's time to look ahead for new strategic sourcing practices: How will we organise sourcing and how will the pandemic impact the countries we source from?
A Fashion Revolution Courtesy of Covid-19
At the moment, strategies to reduce stock pressure takes priority. The need to make space for the winter goods is driving markdowns as well as retailer and supplier discussions.
As the apparel supply chain will look very different in 12 months time, let's focus on the mid and long term sourcing strategy. Let's look for positive change to rewire the fashion system. The pandemic also presents fashion with a chance to reset and reshape the industry's supply chain. And if there is one overriding driver of change, it's that future sourcing needs be to low touch.
What happens when we don't fly to visit suppliers, touch fabrics and review products live any more? The digital practices that largely replace in person sourcing travel will change our industry forever. Let's identify five best practices for post Covid-19 strategic sourcing.
Consolidation for the Better
How many suppliers do we need? This is not a new challenge. Most retailers have aimed at reducing their supplier base by 30% over the past few years and achieved a reduction of around 10%. The pandemic returns the topic to high priority. But perhaps this time we add change for the better by not just reducing, but getting to know our suppliers better. Not only by the strength of their final product offer, but also by their social standards.
Some brands began years ago with transparency and traceability of the full supplier scope. But it's never late to start and you can now benefit from their work. For example, apply the Higg Index developed by the Sustainable Apparel Coalition to practice the new way of strategic sourcing and improve the quality of your supply chain.
Supplier Partnerships
As we will visit fewer factories, the more important it becomes to understand their financial health. How has the crisis affected them? The garment production hubs such as Bangladesh, India or Cambodia may have suffered the most. Many manufacturers will go out of business or will be absorbed by bigger groups. You need to foresee and monitor such developments as it impacts your performance for the following year.
Your supply chain may have survived Covid-19, but understanding your suppliers is key, especially when going through a fragile economic situation.
Sustainability
Sustainability will remain a top priority. Covid-19 will eventually be under control, however, our duty to take care of our environment and our natural resources will remain forever. So let's keep moving towards greener choices. Fostering circular designs and a more sustainable material mix should be every brand's goal. But using organic cotton is only part of the equation. Another example are the chemicals used for finishing, like in denim.
Again, there are companies leading the way, like Jeanologia. The Spanish denim finishing specialist is stepping outside traditional manufacturing and has developed e-flow machines to use fewer chemicals and not waste water. Or Garmon with their Geopower NPS technology that replaces the pumice stones with enzymes in the process of washing jeans. More manufacturer need yet to follow their example.
Virtual Sourcing Travels
Further lockdowns are likely and visits to factories in Asia or Africa may become a rare practice as a result. Not least for cost reasons, reduced travel and working from home may also impact us for years to come. This will increase the importance of local sourcing and quality agents who operate in the manufacturing countries. Such third parties can provide strong digital support tools and help brands in keeping a close eye on production. At the same time, it will take some effort to maintain the standards on garment quality and not slip in compliance.
Digital Tools
Despite rapid advances in technology, the relationship between buyers and suppliers has in many parts remained paper-based. Digitising the buyer-supplier relationship is fundamental in the face of post-Covid19 normality, so accelerate your digital projects across the entire supply chain!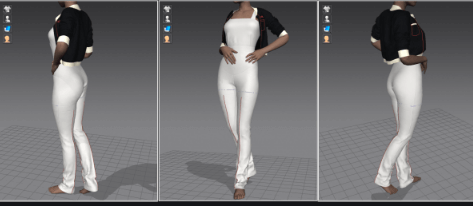 The usage of virtual tools to approve new protos using 3D visualisation will enable us to continue product development work from headquarters and even from home. Virtual mood boards can be sent to suppliers every new season, and 3D artists will be new players in the design department. Technologists together with pattern makers will fine-tune the avatar in 3D to start virtual fitting sessions.
With the help of 3D design software, you can instantly review changes as any modifications to 2D patterns, colours, textures and finishing details are immediately simulated.
Post-Covid Times Will Change Sourcing
The pandemic has not just changed how consumers buy, but even more so how brands and retailers buy. Let's squeeze this opportunity to reset our sourcing strategy. Let's reshape the traditional and inefficient textile buying and sourcing by making better use of the new technologies available on the market. Let's make sure we use the Covid-19 pandemic as a chance for implementing new tools and enhancing the textile fashion industry.
---
About the Author:
Agustin Caprile is an expert in buying and sourcing who has worked for top European fashion retail brands for 15+ years and has extensive global experience in the textile production industry. He is passionate about elevating the apparel business to higher levels of quality and consumer respect. Read his work here or connect with him on LinkedIn.