How do you achieve loyalty card identification in 80% of all purchases and 2x higher spend of omnichannel versus retail only customers?
In this article we explore the ecosystem and customer journey touchpoints that enable Dutch grocer Albert Heijn to meet customer demand and drive omnichannel spend. With 1000 stores and >100k online orders per week, this is true omnichannel best practice at scale.
Before going into the customer journey touch points, it is worth to briefly introduce the Albert Heijn sales channels and loyalty program.

(Graphic: Maximilian Gellert)
Albert Heijn operates two different retail formats: 905 supermarkets, as well as 84 'Ah to go' convenience stores. The 'Ah to go' stores carry a small assortment targeting the consumer on-the-go and are often found in train stations. Prices are higher than in regular supermarkets, reflecting the small basket size, as well as impulse buys. Online grocer Ah.nl is available to 86% (in 2018) of Dutch households, allowing delivery into the kitchen, as well as pick-up by car. Both the Ah supermarket format and Online carry a full supermarket assortment.
The Ah Bonus loyalty program collects transactional data from the Albert Heijn Supermarkets, as well as AH.nl online grocer. With 3.3 million registered members, that's close to 20% of the Dutch population or 40% of Dutch households enrolled in the program.
While there is a lot innovation and many pilot programmes at Albert Heijn, this article focusses on those items which are available at scale today – in store or online. The omnichannel examples are grouped along the customer journey from inspiration to shop to after purchase.
Artificial Intelligence Driven Personal Shopping List
Customers looking for inspiration have multiple ways of setting up their shopping list at their disposal. As a regular shopper at Albert Heijn myself, it's when creating the shopping list that loyalty really pays off. The 'predict my list' feature allows to automatically generate a shopping list for loyalty card holders. Most purchases in grocery are repeat purchases, and the algorithm takes account of the season of year, too. It's much quicker to only remove/add a few items rather than creating a whole new shopping list. 'Predict my list' is the result of collecting all transactional, geographical (store/online) as well as seasonal data and using artificial intelligence to predict a shopping list.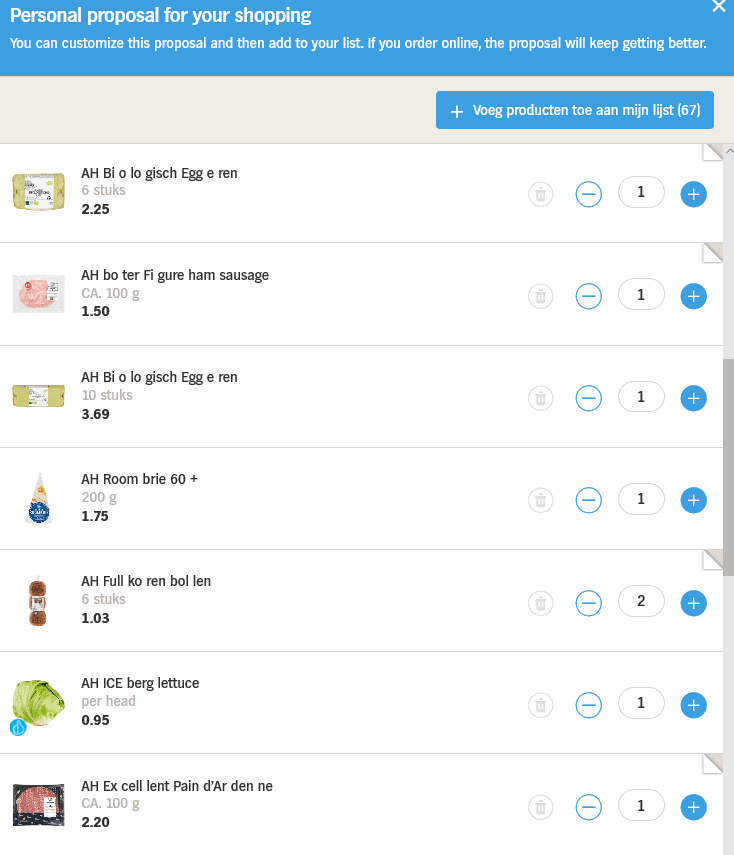 Shopping list automatically generated with AI; translated to English by web browser; (Screenshot: Maximilian Gellert)
Integration with Partners
The Albert Heijn website and app also hold ~16,000 recipes, allowing customers to automatically add the ingredients to the shopping basket. Given that the widget to add items to the shopping cart is also available for external partners, customers can add ingredients with one click for many other websites too. Since 2018 it's also possible to fill the shopping basket per voice command and get cooking support from Google Assistant, which is integrated into the Albert Heijn shopping app.
Personalized Member Discounts and Localised Rewards
Similar to most supermarkets, Albert Heijn offers a variety of weekly discounts in store and online. Unique for loyalty card members is the personalised My Bonus discount, which is significantly more relevant to customers as it gives discounts based on their previous purchase behaviour.
Every bonus card member has a designated Home Store, the branch where they shop most. Rewarding customers with free products when visiting their Home Store drives traffic, but also strengthens the relationship with the customer through the local connection.
Having finalised the shopping list, the consumer has the option of home delivery, pick-up points or going to the store.
Digital Supports Retail Shopping
When shopping in a store, consumers have the option of sorting their shopping list based on the walking route by selecting any Albert Heijn supermarket. It is also possible to use the Albert Heijn app as a self-scan device upon entering the store. Products are then scanned upon entering the shopping basket, rather than at the check-out. Customers who are not among the 500k Albert Heijn app users can use the self-scan devices available at the entrance of their local supermarket instead. Very useful for customers, it also enables Albert Heijn to track the in-store shopping behavior of customers and to connect it with their previous browsing behavior on the app during creation of the shopping list.
In-store Shopper Identification Is Very High
Many loyalty programs struggle with the identification of shoppers in store. Albert Heijn Media & Marketing Group reports this ratio at 80%, a very high rate. This can be explained by the fact that shoppers receive an instant discount on their shopping basket upon swiping their Bonus Card. Having loyalty card readers accessible for customers at every check-out facilitates loyalty identification by phone, smartwatch or traditional plastic card.
Subscription Model Drives Customer Spend in Online Shopping
In addition to charging delivery fees for online orders to allow for a better utilisation of delivery windows, this has opened the opportunity to offer a free-delivery paid subscription model similar to Amazon Prime. Signing up for the 'Bezorgbundel' at a monthly cost of €10 waives all delivery fees and lowers the minimum order value.  An extra 20% discount is applied to the subscription in case deliveries are taken only from Tuesday to Thursday. Further benefits include a free BOL select membership, providing e.g. free next day and Sunday delivery for online shop bol.com, which is also part of Ahold Delhaize Group. The higher customer loyalty from the paid subscription program results in members spending four times more than the average Albert Heijn customer.
After receiving their groceries, or upon return home after a store visit, customers have the option to consult a personalised health dashboard, which suggest product substitutes with higher nutritional value or less sugar. You've guessed right, these products can be added to the shopping basket with just one click!
Seamless Movement Between Digital and Retail Along the Customer Journey
With many retailers working on their omnichannel offering, these are the three key takeaways from Albert Heijn's omnichannel best practice at scale:
Omnichannel Benefits. There needs to be a strong benefit for consumers to shop both channels. In case of grocery in the Netherlands, where most consumers do their grocery shopping by bike, having larger orders delivered online and complementing these by smaller errands to the local store is very useful.
A seamless integration between digital and retail needs to encompass two-way movement between online and in-store shopping. It's critical that this is possible throughout all stages of the customer journey.
Utilising the loyalty program as a platform to collect data but also to provide better and personalised shopping assistance to customers is crucial. It is important to offer similar levels of identification and benefits in the retail channel to drive in-store engagement.
---
About the Author:
Maximilian Gellert is passionate about transforming digital technologies into pragmatic every-day solutions for retailers. Combining consulting experience with industry functions in premium apparel and online grocery, he supports retailers and etailers in their digital challenges and last mile innovation. Read more of his work here or connect with him on LinkedIn.