What happens when India's Reliance Industries' ambitious trajectory meets the global Covid-19 pandemic and its impact on the consumer market?
Last year I highlighted the audacity and ambition of India's Reliance Industries when it comes to capturing a share of Indian consumers' spending in just about every category of merchandise and services. A year later, while the world is still in the midst of Covid-19 induced upheavals, Reliance has not only raised over US$ 23.5 billion in the last four months and, in the process, become a net 'zero debt' company but has also unveiled its vision for the future through two of its business entities named Jio Platforms and JioMart.
Jio Platforms now boasts a pantheon of marquee investor partners that include Google, Facebook, Qualcomm, BP, and Intel, among others. At its recent Annual General Meeting, it demonstrated its own mixed-reality solutions with multiple use cases that go beyond merchandise retail, while also claiming to have developed its own 5G hardware and software platform that can potentially allow it to roll out 5G anchored products and services in the near future with a near total control on enterprise security and privacy of data.
Consumer Business & Covid-19 Impact in India
Before we try to assess the potential impact of these connected (or yet-to-be connected) dots that give a clue to Reliance's vision, let us look at India's current Covid-19 impacted consumer business opportunity and how it may emerge post Covid-19.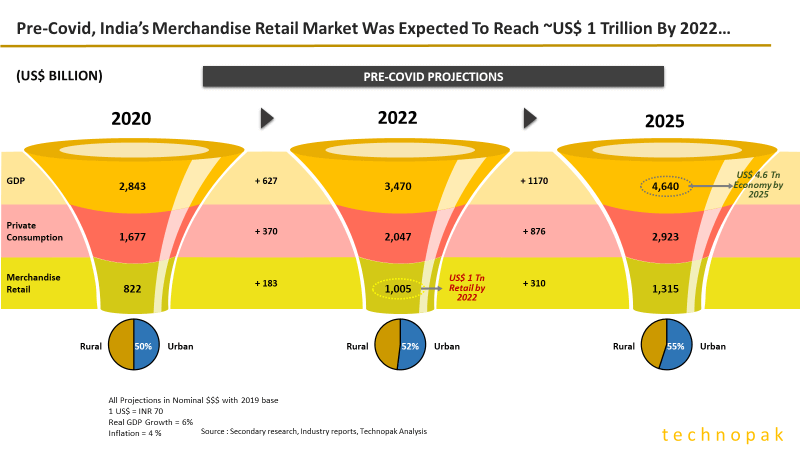 A break-up of the merchandise spending split and the Covid-19 impact looks as follows: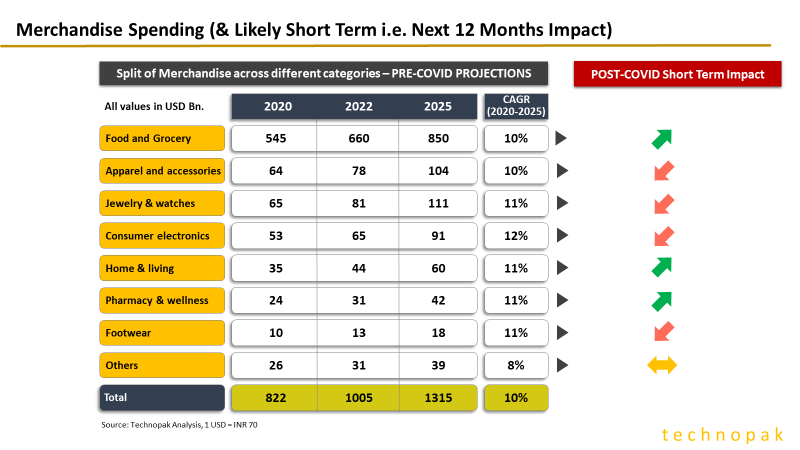 India's consumers are spending a higher proportion of their incomes on services, and it therefore comes as no surprise that Reliance's vision includes taking a sizeable chunk of spending on some of these services.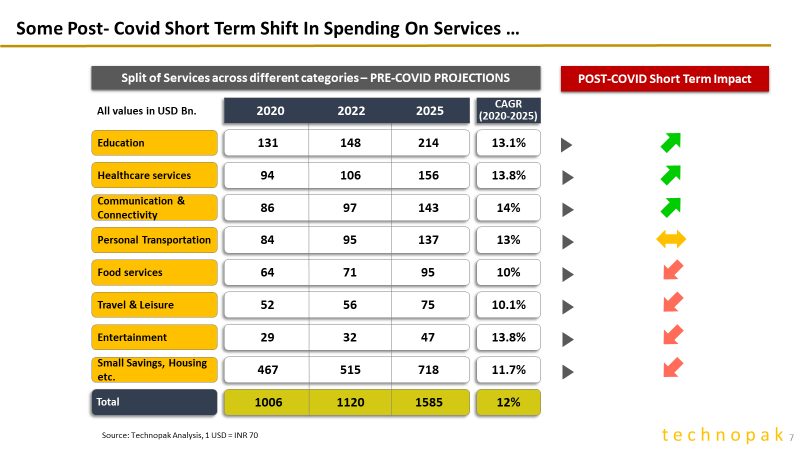 Unlike most other countries, India's retail channel mix continues to be dominated by independent Mom & Pop retail stores, and hence, just about every major India based retail business (Reliance, Amazon, Walmart – Flipkart, and Metro Cash & Carry) has now developed their own retail strategy to 'partner / co-opt' this network of 22+ million independent retail outlets as a part of their retail channel eco-system rather than compete with them.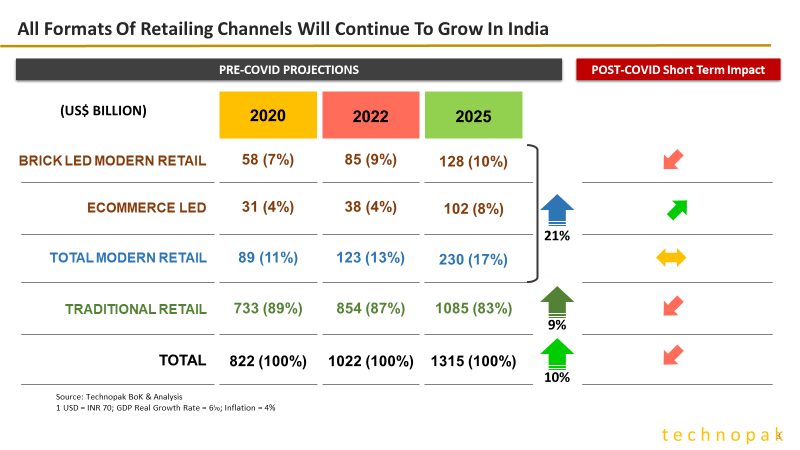 Pre Covid-19, the story of India's e-commerce landscape was based more on hope and less on the ground reality: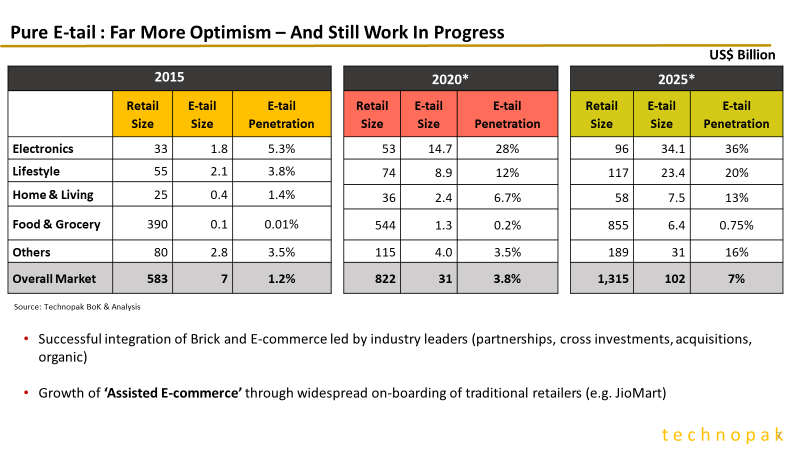 Covid-19 has brought a few transformational changes in India. And in particular, the prospects of e-commerce has been propelled forward by at least 3-5 years.
With one of the most drastic (and most prolonged) lockdowns of the world, many in urban India (and especially those in major metro cities including Mumbai and Delhi that have borne the brunt of Covid-19 infections, migrated rapidly to shopping online for their basic needs with groceries and other pantry items getting the biggest boost.
Fortunately, many Indian well-funded grocery focussed e-commerce start-ups such as Big Basket, Grofers, and Milkbasket already had a presence in major Indian urban markets and they (along with Amazon) were able to very rapidly scale up their supply-chain and delivery operations to cope with the unprecedented consumer demand to shop online for groceries. The lockdown-induced demand has also made millions of middle-income (and many low-income) households upgrade their communication hardware both for shopping and for online education and learning. With India still grappling to flatten the Covid-19 infection and active cases curve, it is very clear that India's digital future has been advanced by the above mentioned 3-5 years.
Meanwhile at Reliance Industries: Connecting the Dots
Let us now look into some of the more interesting pieces of Reliance's retail strategy. Having started its retail operations in 2007, Reliance Retail clocked revenues of about US$ 22 billion in the financial year ending 31st March 2020. These revenues include revenue from its telecom operation; the 'core retail' revenue was around US$ 13 billion in that period.
Reliance was piloting a business initially named New Commerce since early 2019. Its purpose was to enlist a large number of independent retail outlets to install its purpose-built 'point-of-sale' system that would link those outlets own inventory management processes with a Reliance Retail back-end. This system allowed the shop owners not only to replenish select SKUs through Reliance Retail but also carry to out analytics based merchandise planning and facilitate access to Reliance supported digital payment platforms.
The pilot has now been completed, leading to the launch of a platform named JioMart. JioMart has been rolled out in 200 Indian cities so far (out of around 5500 urban centres in India) and handles over 250,000 orders per day. Reliance will rapidly expand this coverage and it is quite likely that JioMart will make its presence in at least the top 750 Indian cities within the next 12-18 months, with perhaps 1 million or more independent retail outlets being a part of the JioMart network straddling both grocery and non-grocery product categories.
With about 400 million users of Reliance's Jio telecom network (and a partnership with Facebook and its nearly 400 million active WhatsApp users), it is quite likely that Reliance will offer multiple options to tens of millions of Indian households to access JioMart either through a download of the JioMart app or perhaps through WhatsApp. Reliance can then seamlessly offer a true 'hyper-local' shopping service to those tens of millions of households with replenishment done at the back-end by a suitable independent retail-store partner located in their neighbourhood, through one of Reliance's own retail stores, or through Reliance Retail's distribution centre.
Through its partnership with Google, it is furthermore very likely that Reliance will launch its own purpose-built smartphone anchored on a purpose built Android platform to target India's relatively low-income household. This would enable hundreds of millions of low-income consumers to migrate from low-end feature phones to highly affordable (around US$ 30-40 per phone) basic but fully-functional smartphones.
Reliance already offers the cheapest data in India compared to anywhere else in the world. With a planned upgrade to 5G networks in the early 2020s, it is well set to capture an extraordinary share of India's consumer spending, including spending on merchandise, and on a wide range of services like entertainment, education and learning, gaming, financial products such as insurance, and healthcare.
Through this audacious strategy, and with a net 'zero-debt' balance sheet along with the potential to now monetise its currently internally funded Retail business, Reliance is well poised to take the lions share of a market that will be around US$ 1,300 billion by 2026 (post Covid-19 impact adjusted) in just merchandise alone, and another US$ 600-700 Billion (by 2026) in the services that Reliance offers to its customers.
It will be very interesting to now see what steps Amazon and Walmart take to expand their own addressable market opportunity in India.
---
About the Author:
Arvind Singhal is Chairman and Managing Director of Technopak, one of India's leading management consulting firms advising across a wide range of sectors, including retail, fashion, textiles and apparel and education. He has previously contributed regular columns for the Business Standard and the Economic Times. Read more of his work here and connect with him on LinkedIn.