Aiming for the world's most affluent consumers in highly competitive environments: Adidas' 'Top City Strategy 2020' is at halfway, what is best practice and what can you learn for your business?
It's widely known that consumer markets and brand distribution channels have fundamentally changed over the past 25 years in more ways than anticipated. Fact is, the internet as a brand distribution channel grew from 0 to commonly 8-15% of sales. But far more relevant from a commercial and strategic perspective is that many formerly emerging countries, especially China and countries in the Middle East and Central Europe, grew to 30-40%  of total sales and profits in lifestyle brand distribution.
But recent growth rates suggest that the times of a 'gold rush' for once emerging countries may be over. And their successors in Africa and Latin America do have a similar market potential, but also suffer from far bigger economic challenges. As it turns out, emerging cities have become the new emerging countries.
Top Cities Drive Brand Distribution Strategy
Researchers at McKinsey & Company were the first to publish a very compelling study about the role of cities in future global GDP growth seven years ago.
Among other things, McKinsey Global Institute's 2011 research forecast the following for 2025:
600 urban centres generate about 60% of global GDP
60% of the new urban consumers will be in 440 emerging cities
Consumption in the emerging 440 cities is set to rise to $10 trillion
1 billion new consumers in emerging market cities
And to cite another essential from the same report: 'Over the next 15 years, the center of gravity of the urban world will move south and, even more decisively, east.'
Now, as the retail-experienced reader already knows, building a brand distribution strategy solely on emerging cities' growth won't be viable. As tempting as many a retail study sounds, some cities or countries may not grow into major retail markets unless they proceed to substantively reform their economic and/or political systems first. Among the brand distribution strategies I have accompanied, the most significant mid-term growth potential tended to lay in old economies and already established cities.
And here's a brand strategy truth that hasn't changed in the last 20 years: if you want to become a truly global brand, reaching all parts of the world is not the most important factor. Instead, you become global by winning over consumers and tourists in the global retail capitals like New York, Tokyo, Hong Kong, Paris or London.
Even more so today than 20 years ago, affluent consumers from Brazil, India, China or Russia travel to shop and establish their belief in global brands through global and regional retail capitals.
 Adidas' Top City Strategy
Among other insights, the increased significance of global cities has been the foundation of Adidas' Top City Strategy. In March 2015, Adidas introduced its three-pillar Top City Strategy 2020, focusing on the six global cities Los Angeles, New York, London, Paris, Shanghai and Tokyo to push its sporting goods brand. Adidas expected to double sales in these core cities with a new brand distribution strategy.
Two years into the making, in March 2017, the newly appointed CEO Kasper Rorsted and his board, shared some convincing insights and KPIs about their Top City brand distribution channels. Adidas had rebound from the overall growth crisis with a sales growth of 18% and profit growth of 41%.
Even more convincingly, net sales in the key cities were up by 33% and Adidas' market share grew by 1.7 percentage points. A few months earlier, on Adidas' investor day, Christopher Williams, VP Commercial Planning, had outlined the top cities three pillars plan in more detail:
The German brand announced that by 2020 it would improve marketing and retail experiences in the key cities to outperform competitors in social media engagement and brand advocacy. Roland Auschel, Head of Global Sales, reported in autumn last year that, in Shanghai alone, Adidas achieved €100 million of revenue in the first six months of 2017. That's more than in Austria and Switzerland combined. According to Auschel, Shanghai serves as a perfect example of the success of the new brand distribution strategy.
Adidas' State of Top City Presence
A few more months have since passed, the 5-year-plan stands at halftime, and the company has yet to publish a Top City KPI update this year. But overall, Adidas continues to demonstrate a strong brand distribution strategy and a look at its retail activities makes the city progress visible.
Adidas built up retail as its own dedicated distribution channel in the 1990s and demonstrated a clear strategic commitment early on by publishing retail results (unlike Nike). Last years' annual reports focused on other distribution priorities (e-commerce and controlled space in wholesale). But growth in own retail can be witnessed in many forms, like here for Adidas' top cities alone: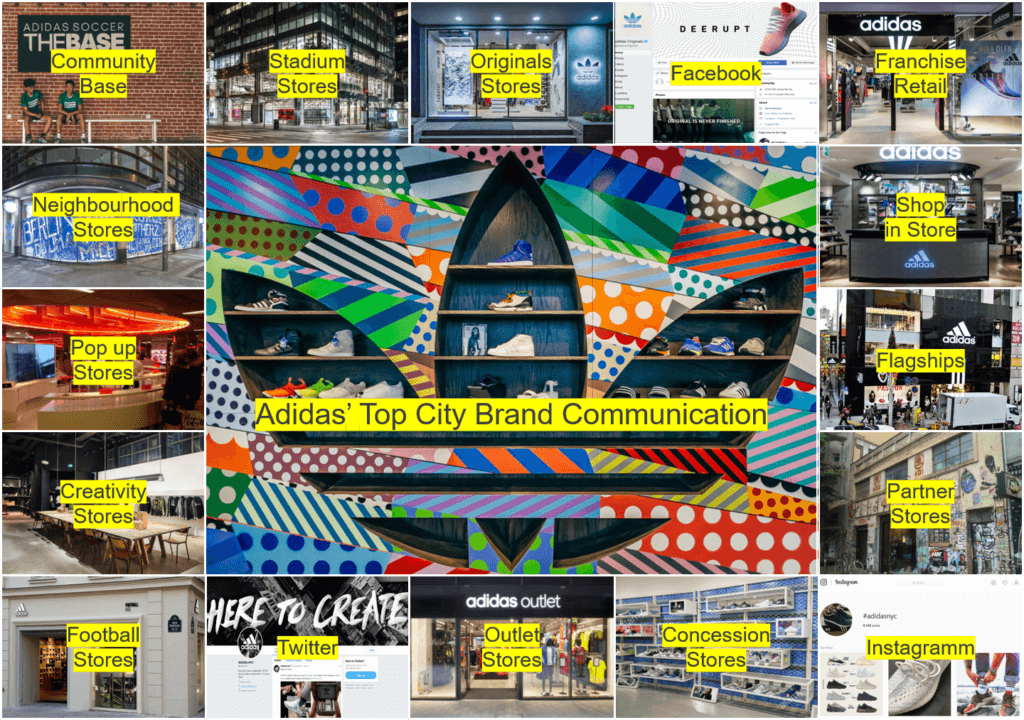 | | |
| --- | --- |
| Apr 2015 | Adidas opens its first Originals store in Harajuku, Tokyo. |
| Apr 2015 | With Xuhui Riverside, Shanghai, Adidas opens its first Runbase in China. |
| Feb 2016 | With Foubert's Place, Adidas launches London's first Originals store. |
| May 2016 | The new Adidas Flagship opens at Champs-Elysées, Paris. |
| Jul 2016 | Melrose Avenue sees the opening of in Los Angeles' first Originals store. |
| Aug 2016 | New York gets its Originals flagship store in Spring Street, Soho. |
| Nov 2016 | Adidas launches its 'Stadium' flagship on 5th Avenue, New York. At 4,000m² , it's the biggest Adidas retail store ever built. |
| Feb 2017 | Adidas Studio opens in London, a women's fitness studio that offers free workouts, run clubs and nutritional workshops. |
| Jun 2017 | Paris witnesses the opening of the first ever Adidas Football Store. |
| Jul 2017 | In Lincoln Heights, Los Angeles, Adidas reveals 'The Base', an indoor football camp that combines art, music, and street culture. |
| Oct 2017 | With Adidas East London, the first ever retail co-working store opens in Shoreditch. |
| Dec 2017 | The new Y-3 flagship opens in La Brea Avenue, Los Angeles. |
And the list could go on. Add to these activities around major sporting events (i.e. Euro 2016), Team Stores (i.e. Real Madrid), unique product launches (i.e. limited sneakers), cultural and celebrity events, city-dedicated social media activities and it becomes clear, that we are looking at an example of brand distribution strategy best practice. Halftime into Adidas' new brand distribution strategy, we thus witness broad and colourful retail city appearances, such as those in Paris:
Quo Vadis Adidas & your Brand Distribution Strategy?
Let me close this Adidas strategy review with the suggestion that you take a short online journey and test the Adidas Store locator for professional reasons. I'm not a regular Adidas customer, but have been using this store locator for many years to help me understand a city's brand and retail distribution when researching and travelling internationally. Adidas' store locator (unlike for most brands) works across national borders, independently of your location, and shows all points of sale, including own stores, partner stores, factory outlets or multibrand retailers.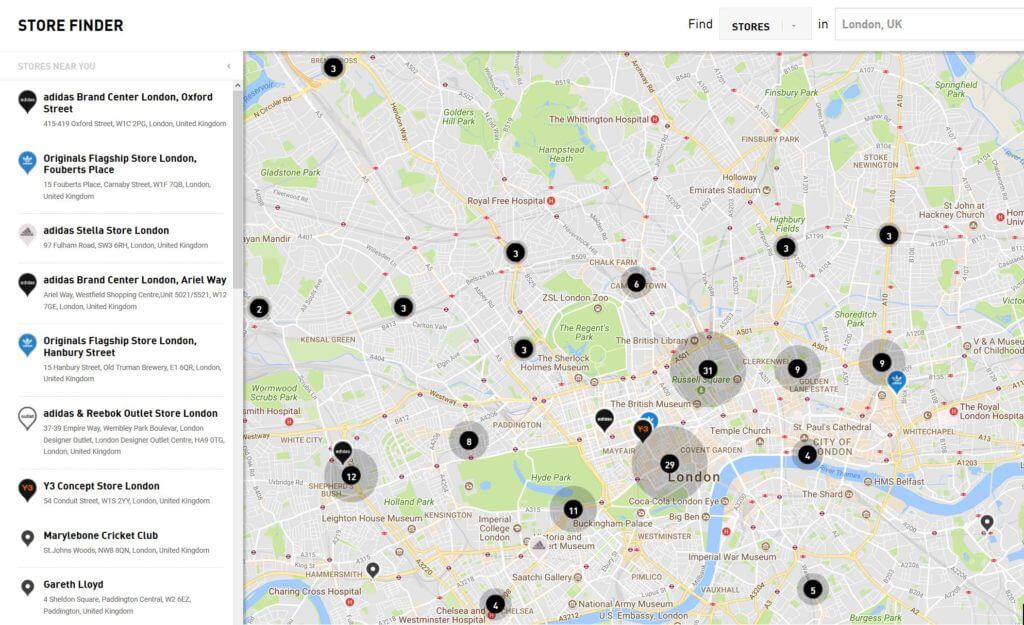 Adidas Store Locator (by Adidas)
If you think that's today commonplace, test the store locators of your favourite brands. Nike, for instance, currently tells me that my 'nearest store is 36.55 miles away'. My store locator comparison is not about the competition between the two brands, they both have their strength. Nike has commercially stronger retail flagships. Adidas' store locator, however, is representative for the brand's strengths in being communicative about all brand distribution channels. It may not be a coincidence that Adidas' public reporting of the last 12 months prioritised its ambition to strengthen controlled space in wholesale.
Where we will witness the results first? Likely in the top cities, we will see stronger wholesale appearances (such as partner retail, shop in shop, and concessions) first.
Adidas' creative and colourful brick & mortar activities certainly indicate a promising start of the new brand distribution channel strategy. As a consumer I love the variety of retail & wholesale formats, as a professional I hope it is profitable and strong growing and will not be hit be Adidas 2018 store closure program. Because, as social media shows for the stores in the top cities, local consumers & tourist love it across all formats. So regardless of whether it will succeed at doubling Adidas' sales, it already strengthened the brand's appearance and customer relationships. And that, in the long run, may be more important for the brand's profitable growth, than delivering on mid-term investor promises.
---
About the Author:
Guido is an experienced brand strategy coach and global traveller in brand growth missions. Comment below or check in with him via email to discuss your brand distribution strategy in key cities, or read more of his work him here.